Ramnagar, situated in the beautiful state of Uttarakhand, is a gateway to the Jim Corbett National Park. While the national park attracts nature enthusiasts from all around the world, there are also several other stunning places to visit near Ramnagar Uttarakhand. Nestled in the foothills of the majestic Himalayas, this region offers a plethora of natural wonders, spiritual retreats, and adventurous activities. In this article, we will explore some of the most captivating destinations near Ramnagar that are sure to leave you spellbound.
Places to Visit Near Ramnagar Uttarakhand
1. Nainital:- Nainital, located approximately 64 kilometers from Ramnagar, is a picturesque hill station renowned for its serene lakes and breathtaking landscapes. One of the major attractions in Nainital is the Naini Lake, which offers boating opportunities and mesmerizing views. You can also visit the Naina Devi Temple, Snow View Point, and Eco Cave Gardens. The pleasant weather and tranquility of Nainital make it a perfect destination for a peaceful getaway.
2. Bhimtal:- A long drive of around 79 kilometers(approx) from Ramnagar will take you to Bhimtal, a charming town known for its pristine Bhimtal Lake. Surrounded by lush green mountains, Bhimtal offers various adventure activities such as boating, kayaking, and paragliding. The Bhimeshwara Mahadev Temple and Victoria Dam are other popular attractions worth visiting. Bhimtal is a paradise for adventure enthusiasts and nature lovers alike.
3. Ranikhet:- Situated at an elevation of 1,869 meters above sea level, Ranikhet is a hill station that offers captivating views of the snow-clad Himalayan peaks. It is located around 89 kilometers from Ramnagar and is known for its lush green meadows, ancient temples, and British-era buildings. Visit the Chaubatia Gardens, Jhula Devi Temple, and Upat Golf Course for a delightful experience. Ranikhet is a perfect retreat for those seeking tranquility and natural beauty.
4. Mukteshwar:- If you're an adventure enthusiast, Mukteshwar is a must-visit destination near Ramnagar. Located around 112 kilometers(approx) away, this hill town offers thrilling opportunities for rock climbing, rappelling, and trekking. The Mukteshwar Temple, Chauli Ki Jali, and Indian Veterinary Research Institute (IVRI) are popular attractions. The panoramic views of the Himalayas from the top of Mukteshwar are simply awe-inspiring.
5. Jim Corbett National Park:- No trip to Ramnagar is complete without exploring the famous Jim Corbett National Park. It is one of the oldest national parks in India and a haven for wildlife enthusiasts. Spread across an area of 520 square kilometers, the park is home to numerous animal species, including the majestic Bengal tiger. Embark on a thrilling jungle safari and witness the raw beauty of nature unfold before your eyes.
6. Kausani:- Known as the "Switzerland of India," Kausani offers breathtaking views of the snow-capped peaks of Nanda Devi, Trishul, and Panchachuli. Located around 147 kilometers(approx) from Ramnagar, this hill station is famous for its panoramic vistas and tea gardens. Visit the Anasakti Ashram, where Mahatma Gandhi spent some time and composed his famous book "Anasakti Yoga." The Baijnath Temple, situated nearby, is a must-visit for its exquisite architecture and religious significance. Lose yourself in the tranquil beauty of Kausani and experience a slice of heaven on earth.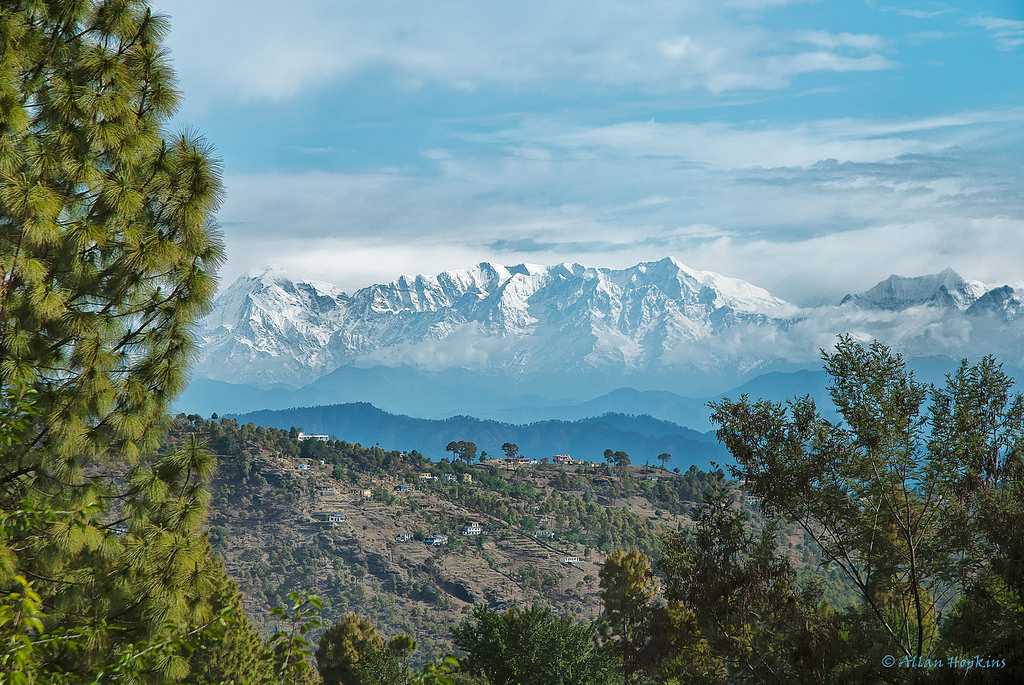 7. Almora:- Almora, situated approximately 80 kilometers from Ramnagar, is a town rich in cultural heritage and natural beauty. Surrounded by pine and oak forests, Almora offers stunning views of the Himalayas. Explore the ancient temples like Nanda Devi and Kasar Devi, known for their architectural beauty and spiritual significance. The Bright End Corner, with its mesmerizing sunset views, and the Deer Park are popular attractions. Immerse yourself in the rich cultural heritage of Almora and witness the traditional Kumaoni lifestyle.
8. Binsar:- Nestled amidst dense forests of oak, rhododendron, and pine, Binsar is a hidden gem located around 91 kilometers from Ramnagar. It is home to the Binsar Wildlife Sanctuary, where you can spot a variety of flora and fauna. The Zero Point offers panoramic views of the Himalayan peaks, making it a perfect spot for nature lovers and photography enthusiasts. Visit the Kasar Devi Temple, known for its spiritual aura and serene surroundings. Binsar is an ideal destination for those seeking solace in nature's lap.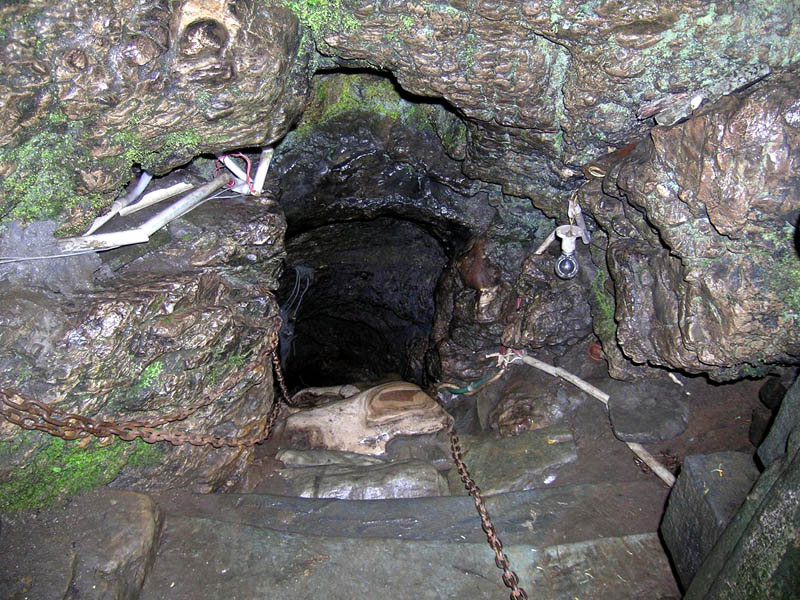 9. Patal Bhuvaneshwar:- Embark on a mystical journey to Patal Bhuvaneshwar, an underground cave temple located around 160 kilometers from Ramnagar. The cave is believed to be the abode of Lord Shiva and has numerous naturally formed stalagmites and stalactites. The intricate carvings and formations inside the cave will leave you awestruck. As you explore the narrow passages and chambers, you'll feel a sense of spirituality and wonder. Patal Bhuvaneshwar is a unique and offbeat destination that promises an unforgettable experience.
10. Munsiyari:- If you're an adventure enthusiast and love trekking, Munsiyari is the place to be. Located around 252 kilometers from Ramnagar, this scenic hill station is the gateway to several exhilarating treks in the Himalayas. Trek to Khaliya Top for breathtaking views of the Panchachuli peaks or embark on the Milam Glacier trek for an unforgettable experience. Munsiyari is also known for its hot springs and the Nanda Devi and Nanda Kot peaks that adorn the skyline. Gear up for an adventure of a lifetime in Munsiyari.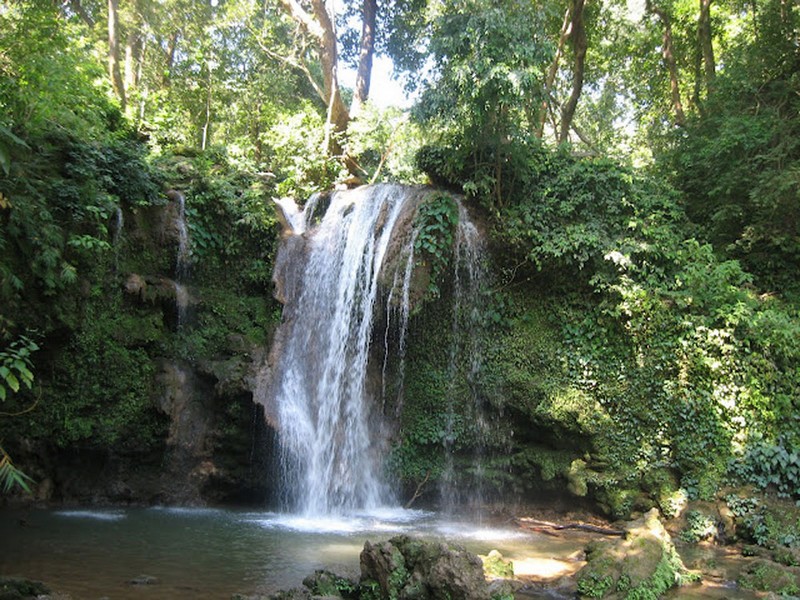 11. Corbett Waterfall:- Corbett Waterfall, located near the Jim Corbett National Park in Uttarakhand, India, is a picturesque cascade that attracts visitors with its natural beauty. It is named after Jim Corbett, a renowned conservationist and author who played a significant role in establishing the national park. The waterfall is formed by the Kosi River as it gushes down from a height of approximately 20 meters (66 feet) amidst the lush greenery of the surrounding forests. The sight of water cascading down the rocks, creating a soothing sound and a misty atmosphere, is truly captivating.
12. Corbett Museum:- The Corbett Museum is a popular attraction situated near the Jim Corbett National Park in Uttarakhand, India. It is a significant place for wildlife enthusiasts and admirers of Jim Corbett, the renowned conservationist, naturalist, and author. The museum is housed in a heritage bungalow, known as Kaladhungi House, where Jim Corbett once resided. The bungalow provides a glimpse into the life and achievements of this iconic figure. It showcases a collection of his personal belongings, including photographs, letters, manuscripts, and even some hunting memorabilia.
13. Hanuman Dham:- Hanuman Dham is a prominent religious site dedicated to Lord Hanuman, a revered deity in Hinduism. Located in Jamnagar, Gujarat, India, Hanuman Dham is a place of devotion and pilgrimage for followers of Lord Hanuman. The main highlight of Hanuman Dham is a grand temple dedicated to Lord Hanuman. The temple features an impressive architecture with intricate carvings and vibrant decorations. Devotees gather here to offer prayers, seek blessings, and express their devotion to Lord Hanuman.
14. Haldwani:- Haldwani is a bustling city located in the Nainital district of Uttarakhand, India. Situated at the foothills of the Kumaon region of the Himalayas, Haldwani serves as a gateway to popular tourist destinations like Nainital, Ranikhet, and Almora.
Known for its scenic beauty and pleasant climate, Haldwani attracts both tourists and residents alike. The city is surrounded by lush green forests, offering a refreshing and tranquil environment. It serves as a popular base for travelers exploring the nearby hill stations and wildlife reserves.
Haldwani is also a commercial and educational hub in the region. It has a well-developed infrastructure with markets, shopping centers, educational institutions, and healthcare facilities. The city is known for its vibrant local culture and festivals, where people from different backgrounds come together to celebrate.
15. Garjiya Mandir:- Garjiya Mandir is a revered Hindu temple located near the Jim Corbett National Park in Uttarakhand, India. Situated on the banks of the Kosi River, it is dedicated to Goddess Garjiya, an incarnation of Goddess Parvati.
The temple holds great religious significance for devotees who visit to seek blessings and offer prayers. It is believed that Goddess Garjiya blesses her devotees with strength, protection, and fulfillment of their wishes. The serene and picturesque location of the temple adds to its spiritual aura.
To reach the Garjiya Mandir, visitors must cross a suspension bridge over the Kosi River. The journey itself is enchanting, with breathtaking views of the surrounding forest and the river flowing below. The temple stands atop a hillock, providing a panoramic view of the area.
During auspicious occasions and festivals like Navratri, the temple witnesses a surge of devotees who come to pay homage and participate in the religious festivities. The atmosphere is filled with devotion and the sound of devotional hymns and chants.
Q: Where is Ramnagar located?
A: Ramnagar is a town located in the Nainital district of the Indian state of Uttarakhand. It is situated in the foothills of the Kumaon region and lies approximately 65 kilometers southeast of Nainital.
Q: How can I reach Ramnagar?
A: Ramnagar is well-connected by road and rail. The nearest airport is Pantnagar Airport, which is about 86 kilometers away. The town has its own railway station, Ramnagar Railway Station, which is linked to major cities like Delhi and Lucknow. Additionally, several state-run and private buses operate regular services to Ramnagar from nearby towns and cities.
Q: What is the best time to visit Ramnagar?
A: The best time to visit Ramnagar is during the winter season (October to February) and the summer season (March to June). The weather during these months is pleasant, and you can enjoy wildlife safaris in Jim Corbett National Park, which is located near Ramnagar. However, it's advisable to avoid visiting during the monsoon season (July to September) due to heavy rainfall.
Q: What is Ramnagar famous for?
A: Ramnagar is primarily famous for being the gateway to the Jim Corbett National Park, one of the oldest and most renowned national parks in India. It is also known for its rich biodiversity, including the Bengal tiger, Asian elephant, and various other wildlife species. Ramnagar is also popular among adventure enthusiasts for activities like jeep safaris, elephant rides, and birdwatching.
Q: Are there accommodations available in Ramnagar?
A: Yes, Ramnagar offers a range of accommodations to suit various budgets and preferences. You can find luxury resorts, hotels, guesthouses, and forest lodges in and around Ramnagar. Additionally, many eco-lodges and resorts are located near the Jim Corbett National Park, providing a unique experience close to nature.
Q: What are some nearby tourist attractions from Ramnagar?
A: Apart from the Jim Corbett National Park, which is the major attraction, there are several other places of interest near Ramnagar. These include the Garjiya Devi Temple, Corbett Waterfall, Sitabani Temple, Dhangarhi Museum, and the Kosi River. You can also explore nearby towns like Nainital, Ranikhet, and Bhimtal, which offer picturesque landscapes and tourist spots.
Q: Is it safe to visit Ramnagar?
A: Ramnagar is generally considered safe for tourists. However, like any other tourist destination, it's advisable to take necessary precautions and follow the guidelines provided by local authorities. While visiting the wildlife areas, it's essential to respect the rules and regulations set by the national park authorities to ensure your safety and the conservation of wildlife.
Q: Can I go on a safari in Jim Corbett National Park from Ramnagar?
A: Yes, you can go on safaris in Jim Corbett National Park from Ramnagar. The park offers various safari options, including Jeep safaris, elephant safaris, and canter safaris. These safaris provide an opportunity to explore the park's diverse flora and fauna, including the chance to spot the majestic Bengal tiger.
Q. What are some of the best places to visit near Ramnagar?
A. Here are the list of some best places to visit ramnagar:- 
1. Corbett Waterfall
2. Corbett Museum
3. Hanuman Dham
4. Jim Corbett National Park
5. Mukteshwar
6. Ranikhet
7. Nainital
8. Haldwani
9. Almora
10. Hanuman Dham
11. Garjiya Mandir
12. Munsiyari
13. Binsar
14. Kausani