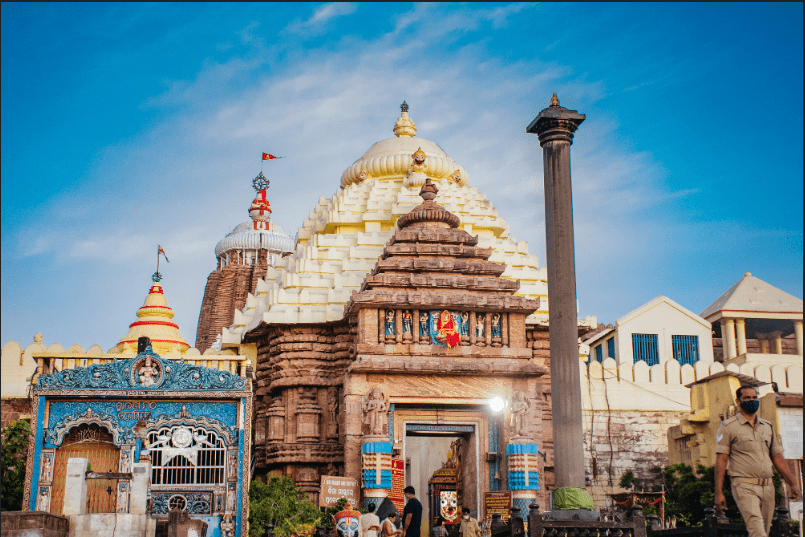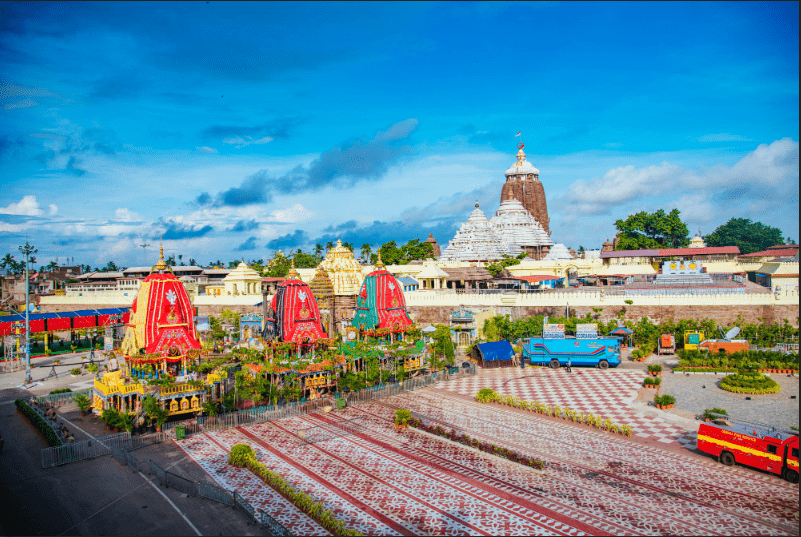 The Jagannath temple is situated in the Puri district at Odisha state. It is dedicated to Lord Krishna.
The 4 dhams of India are Badrinath, Dwarka, Puri, and Rameshwaram. Puri is one of them. And these all four dhams are defined by Adi Shankaracharya.
The temple worships Lord Jagannath, Devi Subhadra, and elder brother Balbhadra.
The height of the temple is 65 m. and is constructed in the Kalinga structure. The temple was built by the King of the Ganga Dynasty, Anant Varman Chodaganga in the 12 century.
There are so many festivals of Jagannath Temple, during the year are Rath Yatra, Chandan Yatra, Snana Yatra, and Nabakalebara. The most famous festival is Rath yatra. Many people gathered in this yatra to witness Lord Jagannath during the festival.
It is a famous Hindu Temple.  
History of Jagannath Temple
People say that a King named Indradyumna(son of Bharata and Sunanda) was the devotee of Lord Vishnu. Once he got to know that Lord Vishnu has come in the form of Neela Madhva and he has been worshipping by Vishwavasu. So he sent a Brahman Priest Vidyapati to find the deity, Vidyapati goes there and tried his best to find the deity, but he couldn't succeed. 
Vishwavasu had a daughter named Lalita. He married her. After some time, he requested his wife to tell her father that to take him to Neela Madhva. Vishwavasu accepted the request of her daughter. He blindfolded him and took him to a cave where he worships Neela Madhva. 
Vidyapati was very brilliant. He took some mustard seeds with him and dropped them on the way whom they were going. and entered into the cave with Vishwavasu. After that, he informed Indradyumna so he came there and become disappointed because the deity was disappeared. But he wants to see deity so he observed fast unto death on Mount Neela. Once he heard a voice that he will see his deity. So he sacrificed a horse and built a temple for Vishnu. And the murti of Narsimha brought by Narada was installed in the temple.
One night when he was sleeping, he saw Lord Jagannath in his dream. He heard a voice about a fragrant tree on the seaside and make idols of it. So he made the idol of Jagannath, Balbhadra, and Devi Subhadra and installed them in the temple.
Prayer to Lord Brahma 
Then he prayed to Lord Brahma to visit the temple. Brahma came there and was happy for him. He asked the king that how he can fulfill his wish. He said that makes his life childless and he should be the last member of his family. If anybody left then he should work for the temple not for others.

                                  
Jagannath Temple under King Anant Varman
The temple was constructed by the Anant Varman Chodaganga, who was the king of the Ganga Dynasty. Later it was completed by King Anangabhima Deva in the 12th century.

 
Why Jagannath Mandir is famous
The temple is famous for its festival and Rath Yatra which is held annually. Thousands of people gather in this yatra and take the blessing of Lord Jagannath. 
Every year there are some festivals which are celebrated in Jagannath. Among them, Rath Yatra is famous in which all three deities are carried to Gundicha Temple. 
Chandan Yatra 
In this festival, the chariot is made for each deity. The festival is too long and it takes 42 days. The yatra is divided into Bahri Chandan and Bhitri Chandan Yatra. Each one takes 21 days to complete. 
Snana Yatra
In this festival, all three deities Lord Jagannath, Devi Subhadra, and Balbhadra taken to Snana Yatra and bathed them doing all rituals. 
Anavasara
It is celebrated after Snana Yatra in which the deities were taken to rest for 15 days. So devotees were not allowed there to see them. They can go to Brahmagiri to see their beloved Alternath form of Vishnu. 
Rath Yatra 
After Anavasara the Rath Yatra is held. It is very famous and organized in the month of June or July. In Rath Yatra, all the deities are brought out into the street of Puri and travel to Shri Gundicha Temple. And the deities are carry on huge chariots(Rath). Jagannath's chariot is approximately 13.5 meters, 12.9 meters for Devi Subhadra, and 13.2 meters for Balabhadra. There is a story about Rath Yatra. People say that it can be detected in Krishna's childhood when he expresses his desire to go to his aunt's house every year. 
Nabakalebara
Nabakalebara is a ritual held in 8, 12, or 18 years. In this festival, new images are installed in Jagannath, and old ones are buried out to Koili Vaikuntha Temple. 
By Air 
If you are going by air then you have to fly to Biju Pattnaik International Airport Bhubaneswar. From there the temple is 60 km. far. And you can opt bus from there to travel the rest of the distance. 
By Train 
If you are going by train you have to go to Puri Railway Station. from there the temple is 3 km. far. And you can easily reach the temple. 
By Road
If you are going by road you have to go for Puri and from there you can easily reach the temple.