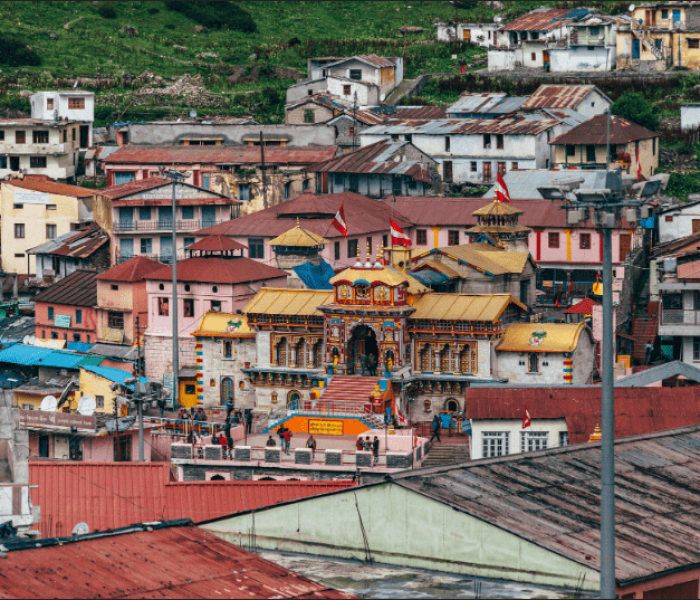 Badrinath Dham Uttarakhand is one of the famous temples of India. It is situated in Chamoli district at the Uttarakhand State.

It is the eighth one on the banks of Ganga in South Asia, and the most revered among the temples in Northern India.

The shrine is at the height of 10,278 feet from sea level and approximately 50 feet tall.

The river Alaknanda(one of the two headstreams of the Ganga) flows in front of this temple. And Neelkanth Mountain is behind it. 

The temple is dedicated to Lord Vishnu who is known as the preserver of the World.

The statue of the deity is 1 foot tall and made of black granite.  

All Hindu traditions consider the Badrinath Temple as a Shakti Peetha and is known as the abode of Lord Shiva.

The temple is in the UNESCO World Heritage Site. The holy temple of Badrinath is also in the top 10 Hindu pilgrimage sites in the World.
History & Myth behind Badrinath Dham
The Myth behind Badrinath Dham is once Lord Vishnu was in great trouble. So he came here for penance. When they were in penance, Then Maa Lakshmi came here and turned herself into a Badri tree and shelter him from sunlight and weather. From that time she is called by Badri Vishal and Vishnu is called by Badrinath.

Another story of this beautiful Dham is found in Mahabharata. When the Pandava brothers were going to heaven with their wife Draupadi, they had stayed here in a village named Mana which is approximately 3 km far from Badrinath Dham.

In the 8th century, Adi Shankaracharya approached King Kanak for his help to rebuild this temple. 

Due to avalanches and landslides, it is destroyed several times. And the mandir was the last re-reconstruct by a Garhwal king in the 17th century.
Why Badrinath Temple is famous
Badrinath Mandir is one of those 4 Dham who is in Uttarakhand. Many people come here to visit this Dham and take the blessings of Bhagwan Badri. Last year approximately 10.2 lakhs people visited here. 

Badrinath is also visited by the famous pilgrims and sadhus of Sri Badri Narayan temple of Uttarakhand for a solitary religious and spiritual bath.
Location of Badrinath Temple
The location of Badri Dham is Uttarakhand. It is situated on the northern side of the Hindu holy cities of Haridwar and Rishikesh. And it is surrounded by Nar and Narayan Parvat Hills. The Nar Parvat is opposite the temple and the Narayan Parvat is behind the Neeelkanth Hills. You could easily reach here by bus. You can opt bus from Haridwar, Rishikesh, or Dehradun. There is no trekking for this temple. It's a simple roadway. 
Weather reports of Badri Dham – 
| | | |
| --- | --- | --- |
| Summers | May to June | 19°c – 30°c |
| Monsoon | July to Sep | 20°c – 27°c |
| Winter | Oct to April | 6°c – 22°c |
Due to heavy snowfall, the mandir opens for its devotee starting in May and close in October
How to reach Badrinath Temple
By Air
If you are going by air then you have to fly to Dehradun Airport. After reaching the airport you can take the bus to Badri Dham which is 330 km. far from there. 
By Train
If you are going by train then you could ticket for Haridwar or Rishikesh. From Haridwar, the temple is 315 km. far, and from Rishikesh, the temple is 295 km. far. 
By Road
Badrinath Temple, a pilgrimage center, can be reached by both foot and wheel.