Kedarnath Temple, located in the Kedarnath mountain ranges, is an important pilgrimage site where Lord Shiva's Jyotirlinga is 

located. Kedarnath Temple believed to have been built by Shankaracharya, in the

Garhwal region of the Himalayas is gaining great religious significance. Other attractions around Kedarnath include 

Sonprayag, Rathuskund, Bhairavnath Temple, Kedarnath Wildlife Sanctuary and Kedarnath Temple. From the cave you will also see 

the sacred temples of Kedarnath and Bhairavnath.
Kedarnath Dham is a great place for hikers, along with the nearby lakes, peaks and grasslands that serve as a popular spot for

sightseeing. The tourist spots of Kedarnath offer stunning views and help travelers enjoy religious activities. Kedarnath 

Dham is strategically and commercially located on the Gopeshwar-Gaurikund road and the tourist who cannot get to Kedarnath 

uses a helicopter service which can take 10 minutes to Kedarnath Temple. Pandukeshwar is a holy place located on the road to 

Badrinath. Kedarnath Temple on Vasuki Tal Lake The heart of the Kedar Valley, Kedarnath Temple is an extremely beautiful 

pilgrimage site and the holiest place for Hindu devotees. Kedarnath Temple is the Heart of Kedar Valley.
16 Best Places to Visit Near Kedarnath Temple
Kedarnath Temple Uttarakhand is already a famous tourist destination and most people who come to Kedarnath will now find nearby places to explore. Here are the list of 16 best places to visit near Kedarnath Temple – 
Vasuki Taal – Vasuki Lake or Vasuki Taal is situated at the height of 4315 m. (approx. 14000 feet) from the sealevel. According to Hindu Mythology it is said that lord Vishnu bathed here in the festival of Raksha Bandhan. It is situated 8 kms. far from Kedarnath Temple and can visited from Kedarnath Temple by trekking only.  
Sonprayag –  Sonprayag is a small village located at an altitude of 1829 meters above sea level in the Rudraprayag district of the state of Uttarakhand. It is located between Rudraprayag and Gaurikund. Sonprayag is located at the confluence of the Mandakini and Saraswati rivers.  Tourists who want to explore the most amazing places in Uttarakhand can make their itinerary for Sonprayag which is considered to be one of the most beautiful places in Uttarakhand.
Triyuginarayan Temple – It is a hindu temple which is dedicated to Lord Vishnu, situated in Rudraprayag at Uttarakhand. It is believed that Lord Shiva married to Maa Parvati here in the presence of Lord Vishnu. The special thing about this temple is an eteranal fire which burns in front of the temple. That's why it is also known by Akhand Dhuni Temple.
Deoria Taal – Deoria Taal is situated in Ukhimath – Chopta road at Uttarakhand. It is situated approx 2400 m. from the sealevel. According to Hindu mythological fact it is said that Hindu devtas bathed in this lake. People also says that this is the place where Yaksha asked the queries from the Pandavas.
Gaurikund

– Gaurikund is situated approx. 6500 feet above from the sealevel. According to people it is the place where Maa Gauri did many tapasyas and other things to win Lord Shiva's heart. Finally Shiva agreed and marry with her at Triyugi Narayan Temple.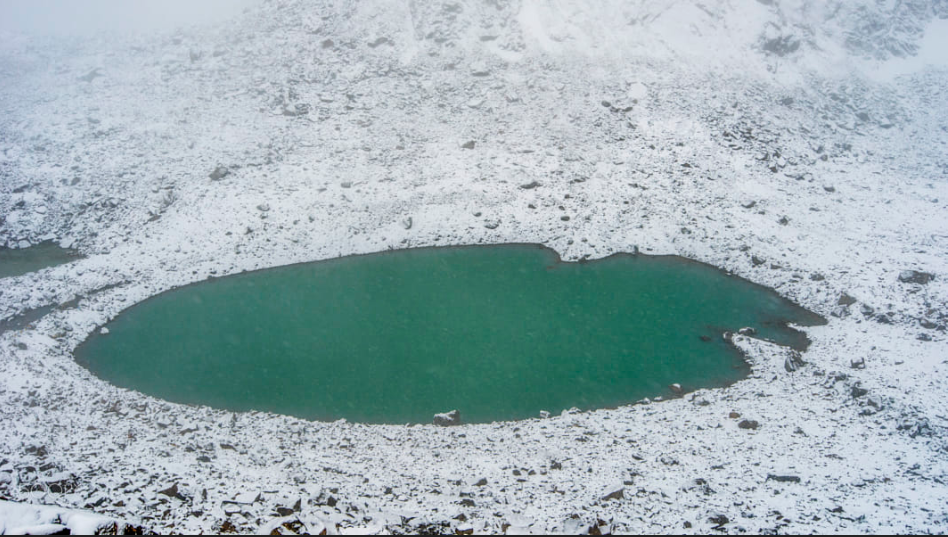 Bhairavnath Temple – Bhairavnath Temple is situated approx. 700 m. from Kedarnath Temple. It is dedicated to Bhairavnath. It is said that Baba Bhaironath is the protector of Kedarnath Temple. People who came to visit Kedarnath Temple also visits this temple.
Agastmuni – It is a village situated in Mandakini river at Rudraprayag district of Uttarakhand. It is situated at 15 km. from the Rudraprayag and named after the Rishi Agastya who is the one among Saptarishis.
Rudranath Temple – It is situated 11500 feet above from the sealevel. The temple is dedicated to lord Shiva and believed that it was made by the Pandavas due to atone from the sins of gotrahatya. The face of the lord Shiva is worshipped here as Neelkanth Mahadev.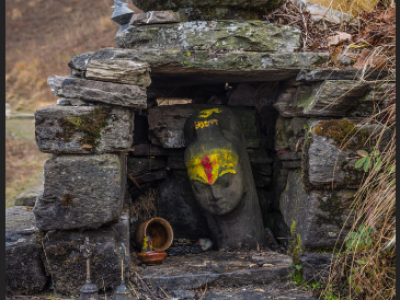 Tungnath – Tungnath Temple is a famous shrine located in Rudraprayag, Uttarakhand. The temple is dedicated to Mahadev. This temple is an important part of the sacred circle of Panch Kedar Yatra, which was established by the Pandava brothers to seek forgiveness for killing their relatives in the battle of Mahabharata.
Madmaheshwar – Madmaheshwar Temple is situated at the height of 3497 m.(11,473 feet) from the sealevel in the Gaundar village of Uttarakhand. It is also dedicated to Lord Shiva. It is one of the Panch Kedar Temple of Uttarakhand.
Chorabari Lake – Chorabari Lake is a glacier lake also called Chorabari Glacier which is situated at an altitude of 3900 m. It is 2 km. far from Kedarnath Temple. This lake is also known as Gandhi Sarovar because some of the ashes of Gandhiji were scattered here.
Shankaracharya Samadhi – Shankaracharya was the great Indian philosopher and adiguru. He visited  many famous Indian temples and works for them. At the age of 32 he decided to attain moksha his body here(near Kedarnath Temple). That's the reason the place is known as Shankaracharya Samadhi.
Guptakashi – Guptakshi is situated at the height of 1300 m. from the sealevel. It is situated at Rudraprayag district of Uttarakhand. It is known for famous ancient Vishwanath Temple of Lord Shiva.
Syalsaur – Syalsaur is situated in the banks of river Mandakini at Uttarakhand state. It is a beautiful place for birds lover. It is located 150 km. from the Haridwar. The fully green environment of Syalsaur will win your heart.
Rudraprayag – Rudraprayag is situated at an altitude of 1067 meters and is a holy place as it's believed to be the place where the Mandakini and Alaknanda unite to form the river Ganga. Rudraprayag has the distinction of being the first and last Hindu pilgrimage and has been mentioned in the ancient texts of Mahabharata and Ramayana. Rudraprayag has the longest and widest Rope way in the world that links it to the Valley of Flowers. The Gaurikund is also another attraction in Rudraprayag, which is a lake formed after the Mandakini River formed a gorge by melting of glaciers and is now known as the Hindu pilgrimage destination.
Devprayag – 

Devprayag is another important place to be visited near Kedarnath. Devprayag is a town and a nagar panchayat in Uttarkashi district in the Indian state of Uttarakhand. Devprayag is a place of pilgrimage for Hindus, especially worshippers of Vishnu. Dev Prayag is where the source of the river Ganges is, as believed by Hindus. This place is also known as Triveni Sangam. Dev Prayag is also the place where river Alaknanda meets the river Pinda and Ganga. It is believed that making a pilgrimage to Triveni Sangam is equivalent to making a pilgrimage to all the three sages Ashrams (places of meditation) – Badrinath, Srinagar (Gangotri) and Rishikesh. Dev Prayag is among the highly spiritual and religious places in Uttarakhand and is visited by thousands of spiritual pilgrims.
Kedarnath Dham is strategically and commercially located on Gopeshwar – Gaurikund Road, tourists who are unable to reach 

Kedarnath using helicopter services may take 10 minutes to reach Kedarnath Temple. Pandukeshwar is a holy place on the road 

to Badrinath. The hidden gem of Uttarakhand, nestled between the holy cities of Guptkashi and Gourikund, just 20 km from the 

main shrine of Kedarnath dham, is an ideal destination for pilgrims and devotees who want to get away from the hustle and 

bustle. Temple crowd. Kedarnath Dham has several kunds known for their religious significance: Shivkund, Retkund, Khanskund, 

Udakkund, Rudhirkund are the most important.