With its awe-inspiring temples, India stands tall as a beacon of faith and devotion. From the iconic golden beauty of the Tirumala Venkateswara Temple – Tirupati, to the serene majesty of the Kashi Vishwanath Temple – Varanasi India boasts a tapestry of famous temples that encapsulate the nation's deep-rooted religious fervor. The intricate architecture, vibrant rituals, and spiritual ambiance of these temples invite pilgrims from around the world to bask in their sacred aura and experience the profound sense of tranquility that only India's temples can provide.
Importance of Spiritual Journeys in a Human Life
Embarking on a spiritual journey is a transformative experience that transcends the boundaries of religion. It offers a profound opportunity to delve within, seek solace, and reconnect with the essence of our being. Journeys to spiritual places to visit in India, allow us to detach from the mundane and immerse ourselves in a realm of introspection, self-discovery, and inner peace. Whether one is a believer or an explorer of spirituality, these sacred voyages provide a sanctuary for the soul, reminding us of our shared humanity and the universal quest for meaning in our lives.
India's Rich Religious and Cultural Heritage 
India's tapestry of diverse cultures and religions is interwoven with a rich tapestry of mythologies, customs, and beliefs. It is a land where Hinduism, Buddhism, Sikhism, Jainism, and Islam coexist harmoniously, showcasing a vibrant mosaic of traditions and rituals. Through its majestic temples, revered shrines, and sacred pilgrimage sites, India beckons travelers to immerse themselves in this vibrant tapestry and witness the unbroken thread of spiritual devotion that has endured for millennia.
So today with me, embark on a divine odyssey through the mystical land of India, where ancient traditions and spirituality permeate every corner. Today we take you down the memory lane and showcase the best TEMPLES OF INDIA and Why and When you must visit them….
1. Kashi Vishwanath Temple, Varanasi
After Prime Minister Narendra Modi brought the temple on the tourism map of India in a stronger and better way with the newly built Kashi Vishwanath Corridor Project, it is the  most visited temple in India. 
Get ready to be blown away by the sheer divinity and historical allure of the world-famous Kashi Vishwanath Temple in Varanasi, India. Among the most famous temples of India, this mind-blowing temple dedicated to Lord Shiva is not just any ordinary place of worship; it's one of the twelve Jyotirlingas, representing the fiery form of the mighty deity himself. Brace yourself for an otherworldly experience as you soak in the intricate architecture and soak up the spiritual vibes that permeate the air. For an extra dose of intensity at this top of the top spiritual places to visit in India, time your visit during the pulsating festivals of Maha Shivaratri in February or Diwali in October/November. 
2. Parmarth Niketan Ashram & Triveni Ghat, Rishikesh
Take a plunge into the mystical realms of hills of Rishikesh in Uttarakhand, where the divine and nature come together in a breathtaking fusion. Picture this: Parmarth Niketan Ashram, nestled serenely on the banks of the holy Ganges River, offering a spiritual sanctuary for those seeking inner peace and enlightenment. And just a stone's throw away, Triveni Ghat awaits, a sacred bathing spot where the evening Ganga Aarti and vedica chants set the stage for a jaw-dropping spectacle of lights, chants, and devotion. Make your move and soak up the magical vibes between September and April, when the weather is a perfect accomplice to your spiritual journey.
3. Golden Temple, Amritsar
Prepare to have your senses completely overwhelmed as you step into the dazzling Golden Temple, the crown jewel of Amritsar, Punjab. This ain't your average place of worship, my friend. The shimmering golden exterior of Sri Harmandir Sahib, as it's officially known, is an unmistakable symbol of Sikhism's core values of unity, tolerance, and equality. Get ready to have your mind blown by the awe-inspiring architecture and let the holy serenity of the temple transport you to a higher state of being. To catch the temple in all its glory, make sure to time your visit for the early morning or evening hours when the ambiance reaches its pinnacle. Don't miss the nearby spiritual places to visit in India at Amritsar and also the famous food right outside the Golden Temple. 
4. Meenakshi Amman Temple, Madurai
Prepare to have an astounding experience as you witness the architectural marvel that is the Meenakshi Amman Temple in Madurai, Tamil Nadu. This ain't no ordinary temple, my friend. Among the most famous temples of India, this masterpiece dedicated to Goddess Meenakshi and Lord Sundareswarar is an extravagant display of Dravidian architecture. Devotees, these historical temples in India are a visual feast as you lay your eyes on the towering gopurams adorned with mind-bending sculptures, vedic chants and vibrant paintings. And if you want to turn up the intensity, plan your visit during the epic Meenakshi Tirukalyanam festival, when the whole city comes alive with a riot of colors and religious fervor. Get ready to lose yourself in the rich tapestry of Madurai's cultural heritage!
5. Jagannath Temple, Puri
It's not your ordinary temple, it is among the best spiritual places to visit in India. It's a whirlwind of colors, traditions, and pure devotion! This ancient gem, standing tall since the 12th century, is dedicated to Lord Jagannath, an incarnation of Lord Vishnu. Among the most visited historical temples in India this temple is a sight to behold with its towering spires and intricate carvings. But you know what makes it truly special and the most visited temple in India? The Rath Yatra festival in June or July, where the deities are paraded in grand chariots. Trust me, it's a holy spectacle you don't want to miss!
6. Tirumala Venkateswara Temple, Tirupati
It is not just a journey but a spiritual roller coaster with the Tirumala Venkateswara Temple in Tirupati amid the Tirumala Hills! Brace yourself for an experience like no other. Among the most famous temples of India, this stunning temple, nestled amidst the lush Eastern Ghats, is all about Lord Venkateswara, an avatar of Lord Vishnu. Legend has it that a visit here can make your deepest desires come true! And the temple's architecture, itys vedic chants and myhstical aur envelopes you in total devotional fervour. Devotees from all corners of the world flock to these historical temples in India, especially during the Brahmotsavam festival in September. If you want to avoid the crowds, plan your visit on weekdays or during the off-peak season.
7. Lakshmana Temple and Kandariya Mahadeva Temple in Khajuraho
Now, let's dive into the world of ancient art and sensuality at the Lakshmana Temple and Kandariya Mahadeva Temple in Khajuraho. Brace yourself, because these UNESCO World Heritage Sites are a feast for the eyes. The sculptures here depict everything from gods and goddesses to everyday human life. Oh, and did I mention sensuality? Yes, these artisans from the Chandela dynasty were not shy about showcasing it! For an extra dose of magic, visit during the Khajuraho Dance Festival held in February. Picture this: enchanting performances against the backdrop of these historical temples in India, which are an architectural marvel, are world famous for these unique aspects and more.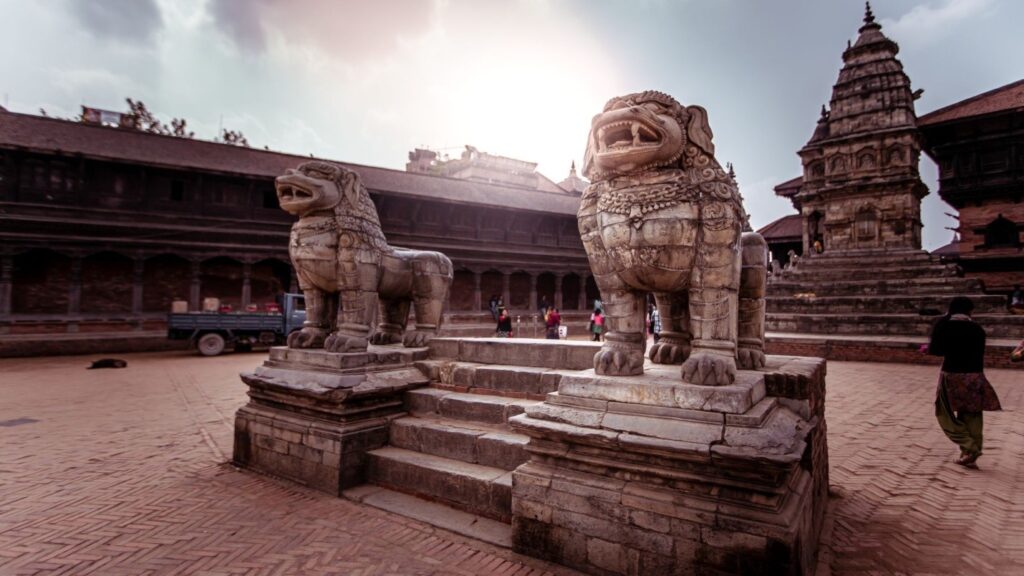 Among the most famous temples of India, this architectural marvel, dedicated to the sun god Surya, will leave you stunned. The temple's intricate carvings and mind-blowing architecture were designed to capture the very first rays of the rising sun. Can you imagine that? And here's a little secret: the annual Modhera Dance Festival in January adds a touch of enchantment to this already magical place. Dancers twirling and spinning against the backdrop of the temple—it's a sight straight out of a dream. Devotees and tourists both looking to travel here can plan it between October and February when the weather is pleasant.
9. Amarnath Temple, Kashmir
This place is something out of a fairy tale, tucked away in the serene hills of the Himalayas in Kashmir. This sacred site is all about Lord Shiva. The real star of the show? An ice Lingam that forms naturally and symbolizes Lord Shiva himself. Devotees must brace themselves, because reaching the cave is no easy feat. You'll need to trek through treacherous terrain, but hey, that's part of the adventure, right? The central government in tandem with the state government asks you for medical certificates and certain tests, to ensure your medical safety. The best time to go is during the summer months of June and July when the cave is accessible and the weather is on your side.
10. Kedarnath Temple, Uttarakhand
The Kedarnath Temple, dedicated to Lord Shiva, holds immense religious significance and is the  most visited temple in India. It's actually one of the twelve Jyotirlingas and among a few tucked away in the serene hills of the North India! But let me tell you, the journey to Kedarnath is no walk in the park. You'll have to conquer the mighty Himalayas and navigate through breathtaking mountains and roaring rivers. It's an adventure that will test your strength and determination, but let me assure you, it's worth every step. The best time to embark on this soul-stirring journey is during the summer months of May to June and September to October. The weather is more favorable, and the trekking conditions are relatively safer. Picture yourself surrounded by pristine natural beauty, with snow-capped peaks and the soothing sound of flowing rivers as your constant companions. No wonder, this one is among the best historical temples in India. 
The Final Word…
From the awe-inspiring architecture to the enchanting rituals, each temple among the top ten spiritual places to visit in India, offers a unique glimpse into the country's cultural tapestry. So, pack your bags, follow the temple trail, and let the magic of India's renowned temples ignite your senses and leave an indelible mark on your heart. Get ready to experience a pilgrimage like no other and unlock the secrets of enlightenment in this land of divine wonders. India awaits, eager to reveal its sacred odyssey to all who seek its transformative embrace via these best spiritual places in India.